2020 ANSI/ASME Pipe Marker Guidelines
Did you know that the standards for pipe labeling have changed? The most current standard is the ASME A13.1-2020: Scheme for the Identification of Piping Systems and it was released in late 2020. The standard establishes six requirements for the proper identification of piping systems: Marker size, letter height, color, legend (wording), directional arrow, and placement.
Comparing the new A13.1-2020 standard and the previous standard (A13.1-2015)
The most recent 2020 update includes new pipe diameter and letter height requirements. - See Table 1
A13.1-2020 now includes a guideline for marking abandoned pipes. - See here
A13.1-2020 continues the 2015 addition of the optional GHS (Global Harmonized System) pictograms. - See Table 4
HOW ARE MARKER SIZE AND LETTER HEIGHT DETERMINED?
The marker size and letter height are determined by the overall pipe diameter, including insulation. Marker length or color field requirements can be met by including an arrow or arrow banding tape. Letter height requirements are designed for optimum visibility on a pipe and adequate viewing distance. See Table 1 – Marker and Letter Size References.
TABLE 1:

Marker and Letter Size References
Outside Diameter of Pipe Covering
Length of Color Field
Letter Height
0.7" - 1.3"
18 - 33 mm
8"
203 mm
0.5"
13 mm
1.4" - 2.4"
34 - 61 mm
8"
203 mm
0.7"
19 mm
2.5" - 6.7"
62 - 170 mm
12"
305 mm
1.3"
32 mm
6.8" - 10"
171 - 254 mm
24"
610 mm
2.5"
64 mm
Over 10"
Over 254 mm
32"
813 mm
3.5"
89 mm
Diagram 1: Pipe Marker Layout
WHAT DO THE COLORS SIGNIFY?
Marker colors are for more than just looks. The colors help to easily identify the inherent danger of the piping contents. There are eleven color designations, seven standard and four user defined. See Table 2 – "Color Designations".
Table 2:

Color Designations
| Fluid Service | Letters & Colors |
| --- | --- |
| Fire Quenching Fluids | LETTERS |
| Toxic And Corrosive Fluids | LETTERS |
| Flammable Liquids | LETTERS |
| Combustible Fluids | LETTERS |
| Potable, Cooling, Boiler Feed, Other Water | LETTERS |
| Abandoned Pipes | LETTERS |
| Compressed Air | LETTERS |
| Defined By User | LETTERS |
| Defined By User | LETTERS |
| Defined By User | LETTERS |
| Defined By User | LETTERS |
HOW IS THE LEGEND DETERMINED?
The wording can be the full or abbreviated name of the system content. The standard indicates "Legends shall be brief, informative, pointed, and simple for greatest effectiveness." The legend should have "sufficient additional details such as temperature, pressure, etc., as are necessary to identify the hazard." - click here for standard legends list.
WHY USE DIRECTIONAL ARROWS?
Arrows are used to show the directional flow of the piping contents. If flow can be in both directions, arrows in both directions should be used. (Kolbi's Wrap-Around Markers include arrows. Adhesive Markers comply when used with Arrow Banding Tape or Individual Arrows)
Diagram 2: Pipe Marker with arrow tape
WHERE DO THE MARKERS GO?
Marker placement is required to assure visibility and should be positioned so that they are visible to personnel from a normal point of approach. Where pipes are located above or below the normal line of vision, the lettering should be placed above or below the horizontal centerline of the pipe. See Table 3 – "Location of Identification Markers".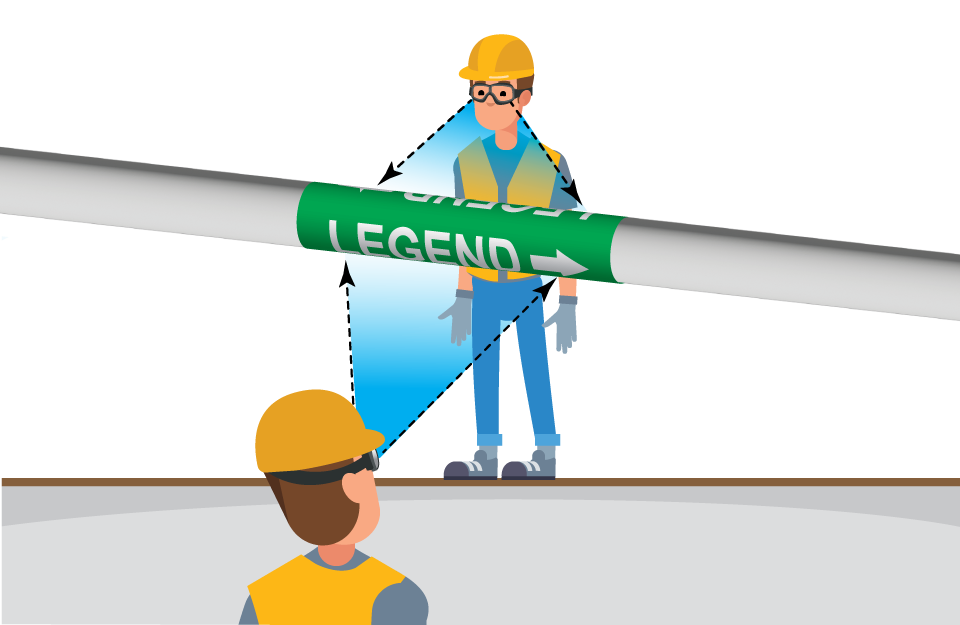 Table 3:

Location of Identification Markers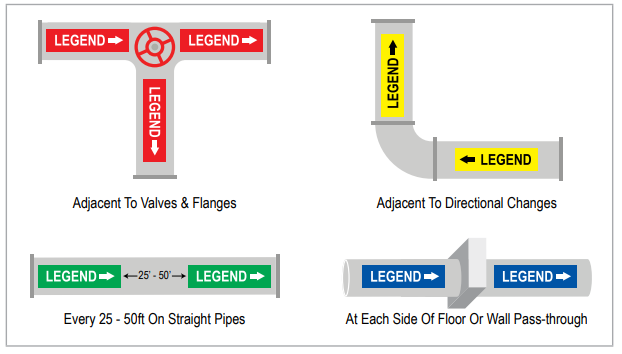 DO I USE GHS PICTOGRAMS?
The use of GHS pictograms or symbols is optional. Where piping is connected to containers labeled in accordance with GHS requirements, a corresponding label which includes pictograms may be provided. See Table 4 - Standard GHS Pictograms.
Table 4:

GHS Pictograms
WHAT ABOUT MARKING ABANDONED PIPING?
The new 2020 standard recommends marking abandoned piping left in place. These should be marked with a safety white marker with black letters and include a black border. If the piping is protected by pressurized fluid or contains residual hazardous materials, the legend should indicate that.


Download our ANSI/ASME 2020 Guidelines

The standard legends on this page are designed to comply with the ANSI/ASME Standard A13.1 - 2020 for identification of piping systems.
| | | | | | | | |
| --- | --- | --- | --- | --- | --- | --- | --- |
| LEGEND # | LEGEND | LEGEND # | LEGEND | LEGEND # | LEGEND | LEGEND # | LEGEND |
| L355 | 110° HOT WATER RETURN | L158 | DISTILLED WATER | L531 | HEATING WATER SUPPLY | L279 | PROPANE GAS |
| L500 | 110° HOT WATER RETURN | L161 | DOMESTIC COLD WATER | L532 | HEATING WATER SUPPLY | L280 | PUMPED CONDENSATE |
| L361 | 110° HOT WATER SUPPLY | L159 | DOMESTIC COLD WATER RETURN | L533 | HIGH PRESSURE CONDENSATE | L550 | PUMPED CONDENSATE |
| L501 | 110° HOT WATER SUPPLY | L160 | DOMESTIC COLD WATER SUPPLY | L534 | HIGH PRESSURE CONDENSATE | L282 | RAIN WATER |
| L357 | 140° HOT WATER RETURN | L166 | DOMESTIC HOT WATER | L535 | HIGH PRESSURE GAS | L283 | REFRIGERANT |
| L502 | 140° HOT WATER RETURN | L511 | DOMESTIC HOT WATER | L536 | HIGH PRESSURE STEAM | L287 | REFRIGERANT LIQUID |
| L364 | 140° HOT WATER SUPPLY | L175 | DOMESTIC HOT WATER RECIRC | L537 | HIGH PRESSURE STEAM | L288 | REFRIGERANT SUCTION |
| L35 | 140° HOT WATER SUPPLY | L512 | DOMESTIC HOT WATER RECIRC | L538 | HOT WATER | L290 | RETURN |
| L559 | ABANDONED | L174 | DOMESTIC HOT WATER RETURN | L539 | HOT WATER | L35 | RETURN |
| L100 | ACID | L513 | DOMESTIC HOT WATER RETURN | L223 | HOT WATER RETURN | L293 | ROOF DRAIN |
| L503 | ACID | L172 | DOMESTIC HOT WATER SUPPLY | L540 | HOT WATER RETURN | L291 | SANITARY DRAIN |
| L102 | ACID VENT | L514 | DOMESTIC HOT WATER SUPPLY | L224 | HOT WATER SUPPLY | L292 | SANITARY SEWER |
| L504 | ACID VENT | L165 | DOMESTIC WATER | L541 | HOT WATER SUPPLY | L294 | SANITARY VENT |
| L105 | ACID WASTE | L515 | DOMESTIC WATER | L225 | HYDROGEN | L295 | SANITARY WASTE |
| L505 | ACID WASTE | L167 | DRAIN | L542 | HYDROGEN | L297 | SNOWMELT RETURN |
| L111 | AIR | L516 | DRAIN | L128 | INDUSTRIAL COLD WATER | L298 | SNOWMELT SUPPLY |
| L115 | AMMONIA | L152 | DUAL TEMP RETURN | L127 | INDUSTRIAL HOT WATER | L300 | SOFT WATER |
| L506 | AMMONIA | L517 | DUAL TEMP RETURN | L543 | INDUSTRIAL HOT WATER | L303 | SOLAR RETURN |
| L118 | ARGON | L157 | DUAL TEMP SUPPLY | L125 | INDUSTRIAL WATER | L304 | SOLAR SUPPLY |
| L119 | ASBESTOS FREE | L518 | DUAL TEMP SUPPLY | L231 | INSTRUMENT AIR | L307 | SPRINKLER |
| L120 | BOILER BLOW DOWN | L176 | FILTERED WATER | L232 | LAB AIR | L309 | SPRINKLER WATER |
| L121 | BOILER FEED WATER | L519 | FIRE DAMPER | L234 | LAB VACUUM | L316 | STEAM |
| L122 | CARBON DIOXIDE | L520 | FIRE PROTECTION | L230 | LAB VENT | L551 | STEAM |
| L507 | CARBON DIOXIDE | L180 | FIRE PROTECTION WATER | L544 | LAB VENT | L317 | STEAM CONDENSATE |
| L124 | CARBON DIOXIDE | L181 | FIRE SPRINKLER WATER | L233 | LAB WASTE | L552 | STEAM CONDENSATE |
| L131 | CHILLED WATER | L188 | FUEL OIL | L545 | LAB WASTE | L310 | STEAM RETURN |
| L35 | CHILLED WATER RETURN | L185 | FUEL OIL RETURN | L238 | LOW PRESSURE CONDENSATE | L319 | STEAM SUPPLY |
| L129 | CHILLED WATER SUPPLY | L186 | FUEL OIL SUPPLY | L546 | LOW PRESSURE CONDENSATE | L553 | STEAM SUPPLY |
| L133 | CHLORINE | L189 | GAS | L240 | LOW PRESSURE STEAM | L313 | STORM DRAIN |
| L508 | CHLORINE | L521 | GEOTHERMAL WATER RETURN | L547 | LOW PRESSURE STEAM | L314 | STORM SEWER |
| L134 | CITY WATER | L522 | GEOTHERMAL WATER SUPPLY | L246 | MAKE-UP WATER | L315 | STORM WATER |
| L137 | COLD WATER | L191 | GLYCOL | L247 | MEDICAL AIR | L320 | SUMP PUMP DISCHARGE |
| L135 | COLD WATER RETURN | L523 | GLYCOL | L249 | MEDIUM PRESSURE CONDENSATE | L321 | SUPPLY |
| L136 | COLD WATER SUPPLY | L190 | GLYCOL RETURN | L250 | MEDIUM PRESSURE STEAM | L554 | SUPPLY |
| L138 | COMPRESSED AIR | L524 | GLYCOL RETURN | L548 | MEDIUM PRESSURE STEAM | L328 | TEMPERED WATER |
| L139 | COMPRESSED AIR | L195 | GLYCOL SUPPLY | L255 | NATURAL GAS | L555 | TEMPERED WATER |
| L142 | CONDENSATE | L525 | GLYCOL SUPPLY | L256 | NATURAL GAS 2 PSI | L326 | TOWER WATER |
| L509 | CONDENSATE | L201 | HEAT PUMP RETURN | L258 | NITROGEN | L324 | TOWER WATER RETURN |
| L143 | CONDENSATE DRAIN | L202 | HEAT PUMP SUPPLY | L259 | NITROGEN | L325 | TOWER WATER SUPPLY |
| L35 | CONDENSATE DRAIN | L208 | HEATING HOT WATER RETURN | L260 | NITROUS OXIDE | L329 | VACUUM |
| L103 | CONDENSATE RETURN | L526 | HEATING HOT WATER RETURN | L262 | NON-POTABLE WATER | L556 | VACUUM |
| L510 | CONDENSATE RETURN | L210 | HEATING HOT WATER SUPPLY | L549 | NON-POTABLE WATER | L331 | VENT |
| L145 | CONDENSER WATER RETURN | L527 | HEATING HOT WATER SUPPLY | L560 | NON-POTABLE WATER | L557 | VENT |
| L146 | CONDENSER WATER SUPPLY | L204 | HEATING RETURN | L266 | OXYGEN | L332 | WASTE |
| L147 | CONDENSER WATER | L528 | HEATING RETURN | L267 | PLANT AIR | L558 | WASTE |
| L150 | COOLING WATER | L207 | HEATING SUPPLY | L268 | POTABLE COLD WATER | L334 | WASTE |
| L148 | COOLING WATER RETURN | L529 | HEATING SUPPLY | L269 | POTABLE HOT WATER | L336 | WASTE WATER |
| L149 | COOLING WATER SUPPLY | L211 | HEATING WATER RETURN | L273 | POTABLE WATER | L339 | WATER |
| L153 | DEIONIZED WATER | L530 | HEATING WATER RETURN | L276 | PROCESS WATER | L340 | WELL WATER |